About Us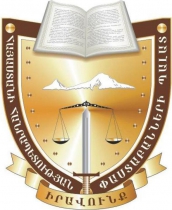 General information
The Chamber of Advocates of the Republic of Armenia is an independent, professional, self –governed, non-financial organization.
The bodies of the Chamber of Advocates shall be the following:
The General Meeting of the Chamber of Advocates
The Board of the Chamber of Advocates consisting of 12 members and the Chairman
The qualification commission consisting of 8 members.
Advocate (from latin word-advocatus, the origin is advoco from the word I invite) is a person who has the Bachelor's degree in law or the qualification of degreed specialist of a lawyer and has an appropriate license to practice advocacy.
For getting a license the lawyer must learn in the School of Advocates, after which the lawyer must take part in the qualification exams organized by the qualification commission of the Chamber.
Advocacy practice is an activity dedicated to protect human rights, which is provided by the advocate engaged to the implementation and defense of the rights , freedom and interests of a person getting legal support with all measures and manners not prohibited by law.
Officially there are 1852 advocates in RA from 04 September, 2017.
Female advocates are 42 percent of the total number of advocates.
Guarantees are envisaged for advocates within international documents and laws, with the help of which advocates have an opportunity to protect the rights of their clients.
Especially:
-The intervention of state authorities, local self-government bodies and their officials, natural and legal persons to advocacy is prohibited.
-The advocate should be provided with a facility to have a private, isolated communication with his client in state authorities and institutions, local self-government bodies including judicial bodies. State authorities, judicial powers and their officials have to undertake necessary measures to provide the advocate and his client with the right to communicate private, isolated and without any obstacles.
-The advocate must not be persecuted, apprehended and detained liability, arrested, detained as well as rights of advocates cannot be restricted taking into consideration provision of his professional obligations, which includes expression of his opinion and points in procedural bodies.
-The advocate should not be identified with his client due to the fulfillment of his professional duties.
-The advocate's flat, his transport means or the office as well as the office of advocate's organization cannot be searched for ascertaining the circumstances, facts related to advocacy.
-It is forbidden to search the advocate while directly performing his professional obligations.
-Database bearers (lazer discs, computers etc.) and documents concerning legal assistance which are maintained in advocate's office or belong to advocate have inviolability and cannot be confiscated( taken) and cannot be used as an evidence.
-It is forbidden to examine the advocate as a witness about the circumstances about which he became aware of during legal assistance or during applying him. According to the above mentioned each non-advocate working at the advocate's office shall be equated with the status of advocate.